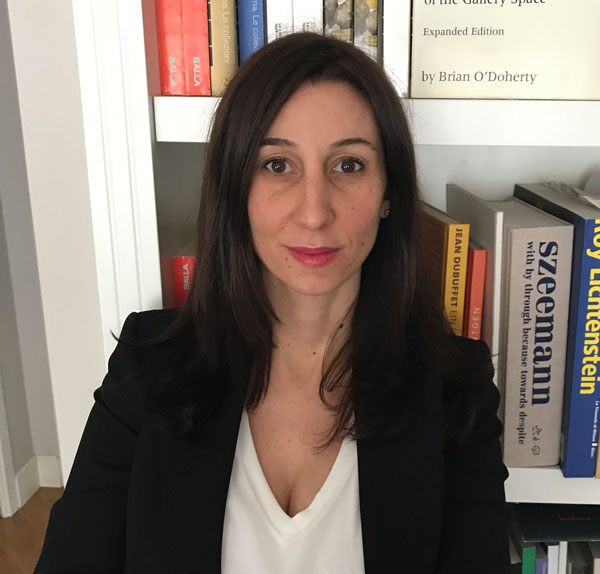 ---
Greta Alberta Tirloni (1983) is an art historian, critic and curator, specializing in contemporary art. University training – magistral, postgraduate and master – at the Universities of Bologna Alma Mater Studiorum, Roma La Sapienza and Università Roma Tre. Experience in curatorship and museology (GNAM), protection and enhancement for private and public collections (including the Farnesina Collection), estimates and evaluations, expertise and diagnostics, also for judicial authorities as in cases De Chirico, De Dominicis, Schifano, Pascali (Prosecutor's Offices of Rome and Bolzano, Venice Court, CCTPC).
He has published essays in the areas of cultural economics, cultural diplomacy, museology and collecting, and art history and criticism on artists and exhibitions, including: Yves Klein, Being in Infinity. The vision of art and the 1970 retrospective: the court case, monograph, with introduction by Maria Vittoria Marini Clarelli, Edizioni Efesto, Rome March 2018. Second updated edition, Edizioni Efesto, Rome June 2019; Italian Art in the Twenty Years of the Farnesina Collection at the Ministry of Foreign Affairs, in Beyond the Borders. The Twenty Years of the Farnesina Collection (1999-2019). The new acquisitions, De Luca Editore d'Arte, Rome 2019; pp. 19 – 22; Richter, economics and the art market, paper, published in www.academia.edu, Rome 2018; Hackatao – La via della sfida intellettuale, Circolo MAECI, Rome (September 12 – November 5, 2018), in www.academia.edu, Rome 2018; L'acqua nell'arte. Interpretations, Variations, Visions, in exhibition catalog Paintings on Water. Da Benvenuti a de Conciliis (1815 – 2017), Museo archeologico nazionale di Mantova (April 7 – June 25, 2017), Musa – Museo di Salò e Vittoriale degli Italiani, Gardone (July 25 – October 1, 2017) Il Cigno Edizioni, Rome 2017; L'arte italiana del '900 e la diplomzia culturale. The Farnesina Collection, in "Economics of Culture," Il Mulino, year XXVI, 2016, no. 3; pp. 467- 476; Simone Verde. Culture without capital. History and betrayal of an Italian idea. Review, in "Economics of Culture," Il Mulino, year XXIV, 2014 / no. 3-4; pp. 448 – 450. IN PROGRESS OF PUBLICATION: Yves Klein. Art Law Market. Monograph, Maretti Editore.
Experience of teaching assignments lectureships in Management and Protection of Cultural Heritage,
Management of Museums, Management and Enhancement of Collections, Management of Exhibitions, Expositions and Events, Economics of Culture, Art Market, History and Criticism of Art, Contemporary Artists and Movements, Heritage Protection, Forgery of Works of Art and Court Cases, Copyright Law, at Roma La Sapienza and Roma 3.
He has given speeches, Lectio Magistralis and reports in meetings, conferences, round tables, Master courses at : MACRO Roma, MAECI – Circolo, MASTER Sole24Ore Roma, MASTER ROMA TRE.
---
Reports of this point of view