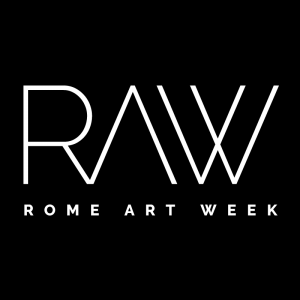 We decided to create the Rome Art Week to answer a simple consideration, there wasn't any!
RAW is a collaborative nonprofit project to promote contemporary art in Rome. It will take place from 24 to 29 October 2016
Understand RAW
Rome Art Week is an innovative project that will involve the whole city of Rome through events in art galleries and open studios of professional artists.It was made to give a new impetus to the contemporary art market of the capital and to bring it to the attention of the international art circuits.
The public will be able to find all the info through the site romeartweek.com where you will find the calendar with all the events taking place in that week and an interactive map. The complete schedule will also be published in the printed materials that will be distributed to all members.
Galleries and Institutions
During the Rome Art Week participating galleries and institutions will organize one or more events to present to the public their vision of contemporary art, and in addition to having a structure card complete and independent from the events cards, they will be able to join in free associations, of at least six facilities, each association having a home page of their own with restricted presentation, map and custom calendar. To date it has already signed ottantacinque galleries and institutions
Artists
The artists will be able to organize an open studio or presentation to illustrate his research in his studio or in his own chosen space. Participation is limited to professional artists.
The artists will have an event card and a complete biography.
Points of view
Critics or influential professionals in the contemporary art sector will be called to help create visit paths to use during the week of RAW. The paths will be freely chosen according to personal artistic trend of Opinion leaders.
Every Opinion leader as well as having a home page with interactive map and personalized calendar will have a short biography and a video where he can illustrate his point of view on contemporary art.

RAW and the word
During RAW will be organized meetings with curators and organizers of international exhibitions in order to to promote and spread the most interesting artistic activity and the most interesting exhibition of the city. It will be an important opportunity to also discuss international collaborations between galleries, artists, institutions with a renewed focus on the independent reality.
Participate
To participate you can register, starting from August 1, and you will be sent your login information to be able to fill both the biography/structure card and the event card you are going to organize.
The galleries or exhibition spaces will have to declare what types of event they intend to organize in the week (vernissage, meeting with the artist, conference, etc.), and are free to choose the date and times
The artists must state the date and the times between which their studio will be open for visit.
Participation in RAW is completely free and events which provide an entrance cost will not be allowed.
To be notified of the opening of the inscriptions go to this page.